The high school is continuing spirit week strong with some safari swag!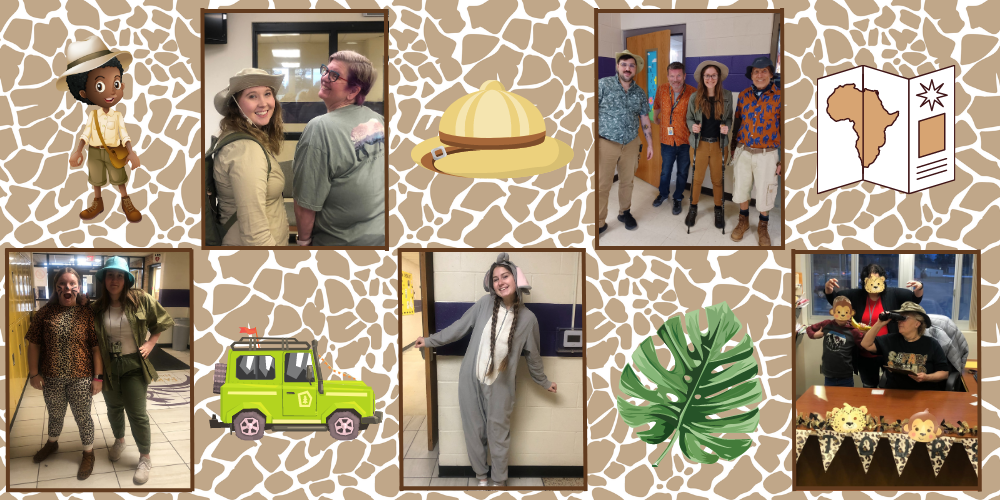 Farwell High School had a shark swimming around the school yesterday causing all kinds of trouble! Check out some of the fun in these spirit day photos! Headed to the Beach Day was a success.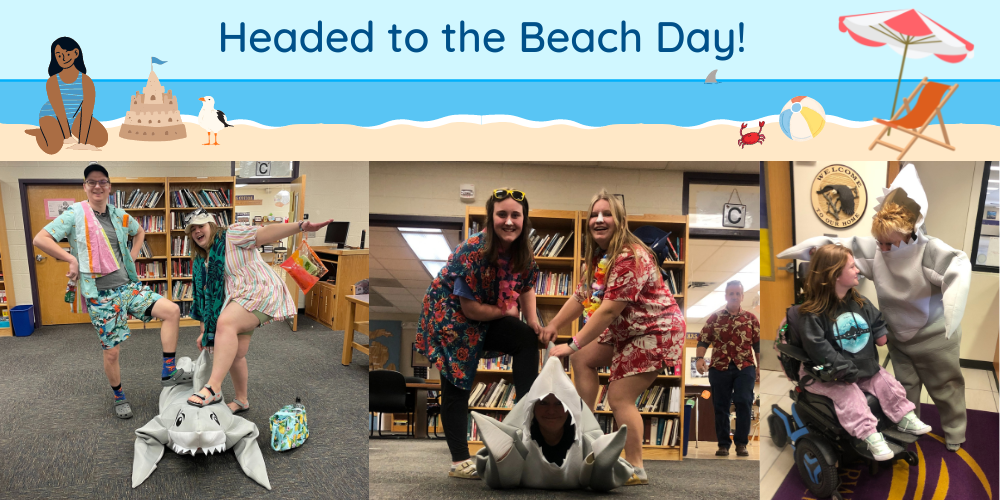 Did you see the Spring Break Spirit Week themes? Join the fun and dress appropriately!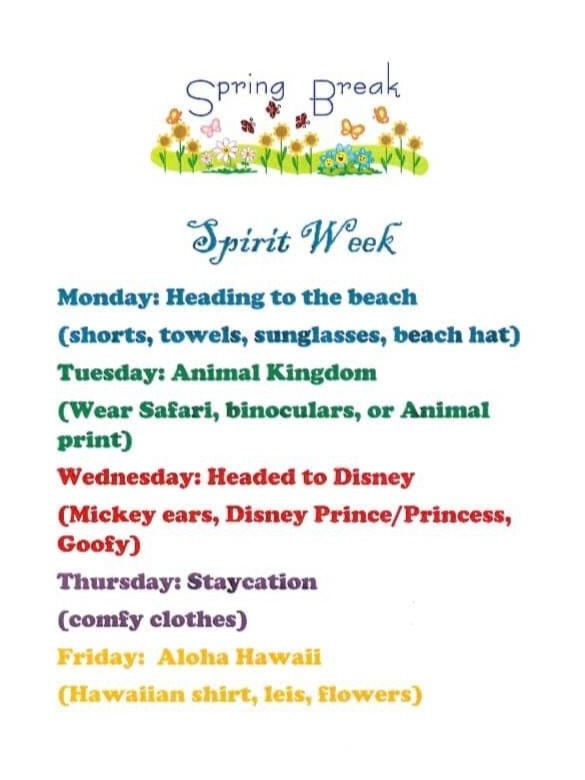 7th and 8th grade track practice will tentatively start on April 4th after school. All students must have a physical on file and have passed all their classes up until this point.

Congratulations to Ruby Frisch on being awarded a DAR Good Citizen!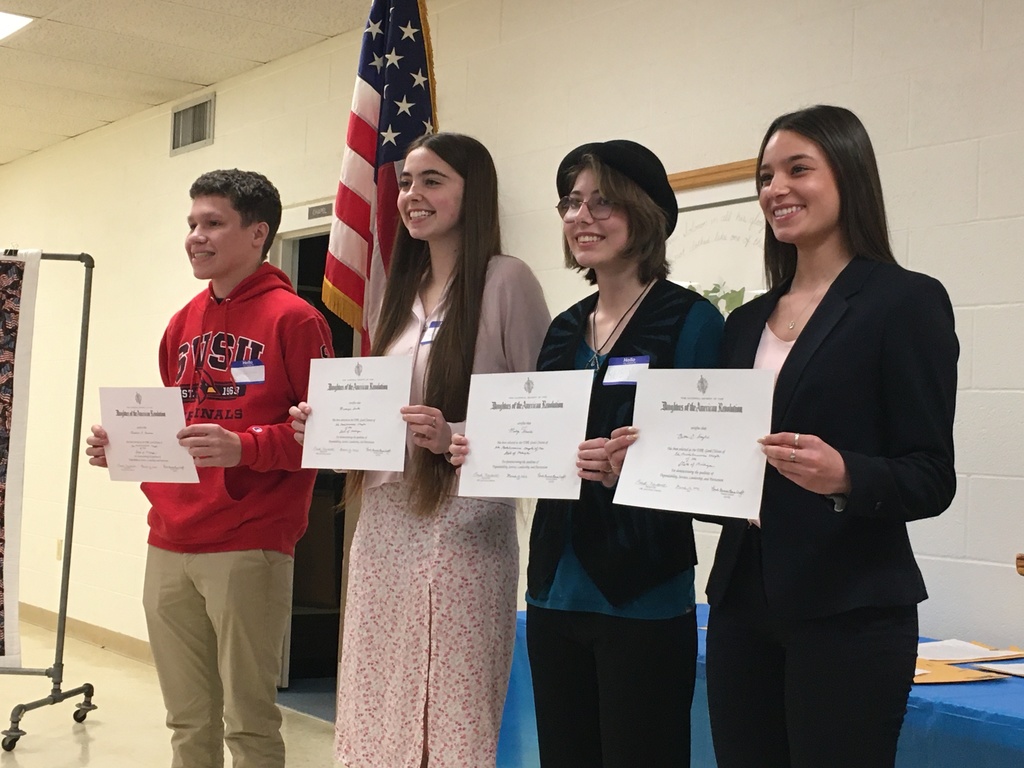 The Greater Midland North Family Center's annual Share the Memories event is coming up on March 23rd-25th. This event is for ANYONE that is looking for a formal dress. It is completely FREE, just pre-registration is required and there are literally thousands of dresses, many of them brand new! You do not have to live in Midland to participate. People come through looking for everything from wedding guest dresses, pageant dresses, and of course homecoming/prom/winter formal dances too. See the flyer for more details.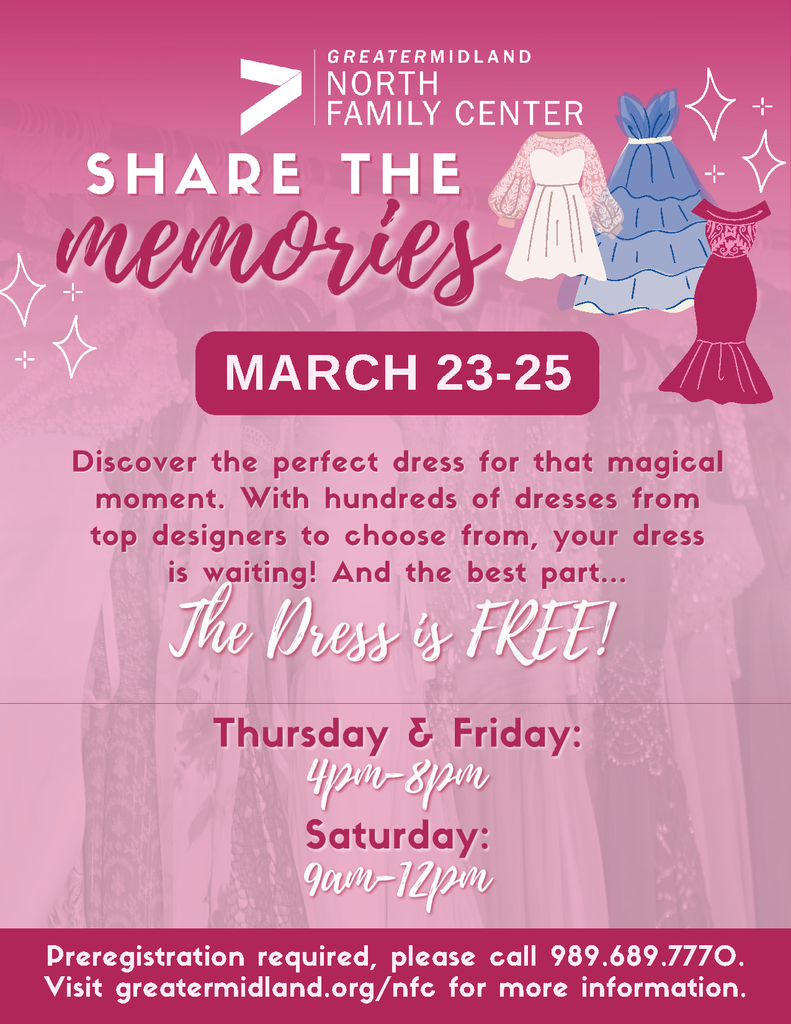 Spring sports start today! Any 9th-12th graders wanting to play softball, practice will be held from 3-5 pm in the high school gym. Any 9th-12th graders wanting to play baseball, practice will be held from 5-7 pm in the high school gym. 9th-12th graders interested in track, practice will be held at 3:15 pm in the JPAC gym. 9th-12th graders interested in golf will have practice at 3 pm and should meet in the JPAC bubble area.

Congratulations to the High School Symphonic Band on their fine performance at Band Festival today! They received a Division II rating (the second highest) from three judges and a Division I rating from the fourth judge! Nice job and way to represent Farwell with pride!!

MHSAA Boy's Basketball districts starts tonight in Sanford. Game 1 is Pinconning v Farwell at 7pm

This weekend the Quiz Bowl teams traveled to Standish Sterling and earned a 3rd place in the JV division. Libby Toner Kaylissa Wetzel and Ivy Frisch. Great job and Congratulations!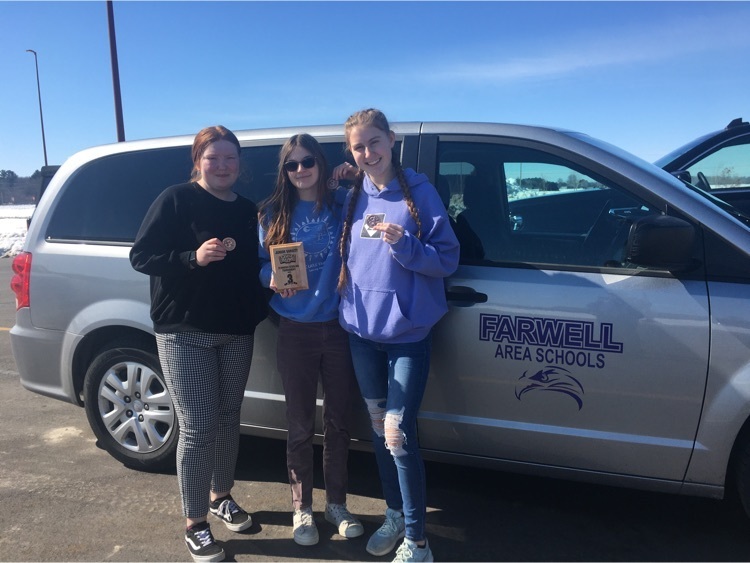 The St. Louis game tonight for boys basketball has been canceled and will not be made up due to the change of the impending storm.

Congratulations to our bowling teams and their performance at Regionals this past weekend in Gaylord! Our girls team place 6th overall, and for the boys, Dakota Wardle finished 2nd and has qualified for states. Way to go bowlers!

Taiyiah wrestled on the 19th at Heartland in the Regional tournament, and had two of the top 3 girls in the state in her bracket. She needed to place top 4 in the regional to advance to state. Tailyiah is currently ranked 5th in the state and lost her first match against Lillianna Garcia from Grand Blanc who is third in the state. She then Pinned her second opponent from Whitmore-Prescott Shelby Holtz in 22 seconds. Her finals match for 3rd place she wrestled Cecilia Williams from Coloma, and pinned her in 24 seconds. Kylar Mcaulay and Dominic Krabill both made it to regionals the day before and Dominic pinned a wrestler who was ranked 9th Ayden Pratt from Roscommon. Neither ended up advancing to state but they both had pretty extraordinary years. Laney Stover also wrestled for the girls on Sunday and had a very hard bracket but did well. Tailyiah will now be traveling to Ford Field for the State tournament on march 3rd and 4th, last year she placed 5th.

Congratulations to our powerlifting team for their amazing performance this past weekend! In the Women's powerlifting 3 of the 4 lifters brought home medals. Anna Vanbuskirk placing 2nd, Ivy Frisch placed 3rd and Emma Brown placed 3rd. Allena Wunderlich placed 4th. Awesome job ladies. In the Men's powerlifting we had 4 lifters bring home medals with Micheal Frasure placing 2nd, Wyatt Vanbuskirk placing 2nd, Tyler Jones placing 2nd, and Vince Osborn placing 3rd. The boys JV team also brought home the team Runner-up trophy with a total of 55 points. Great job boys.

All sports practices may still be happening today. Any practice that is happening will be voluntary and is up to the individual students and their guardians to decide if they feel safe travelling to participate. Please have your students contact their coaches to find out specific details regarding their practice time and location. Girls Basketball at Carson City will still be played but the time has been moved to 6pm. Competitive Cheer and the Boys JV/V Basketball game will be played as scheduled.

The Farwell High School's National Honor Society wrapped up their Teddy Bear and Blanket Drive today, 2/14/23. The drive started on January 11th and we had an outstanding amount of participation from community members and students. The teddy bears and blankets were collected to give to the Clare County Sheriff Department for them to give to children they encounter on scene as an offer of comfort in an otherwise difficult time. Thank you to everyone who showed their support by spreading the word and donating. We appreciate it beyond what words can express and could never do what we do without your help!

Update to the Varsity girls basketball schedule: Due to the postponement of the Clare game last week the following changes to the schedule have taken place: Friday February 17: the team will travel to Carson City-Crystal. Tip off is at 7 pm. Tuesday February 21: the girls travel to Clare with tip off at 6 pm. Go Eagles!

Last night was a real nail biter for the boys varsity basketball team as they played against Harrison. They ended up finishing the game one point ahead, though, leaving the final score at 47-46! Way to go Eagles!

The Eagles are flying home with another win from our bowling boys over Clare Pioneers this weekend. It was a rough start with Clare taking both bakers, making the score 10-0 favoring Clare. The Eagles came back with a vengeance in the Petersons, taking 4 point and totals in the first and 3 points and totals in the second giving Farwell a winning score of 17-13. Dakota Wardles took 2 points and helped put the Eagles ahead on pins with a 233 and a 188. Grant Lease had to leave early, but not before taking a point. Tyler Schmid caught his stride in the second Peterson and took a point with a 179. Great day to be an Eagle. Let's go Farwell!!!

Check out the latest issue of Farwell High Schools Talon Newspaper featuring Snowfest, Semester 1 Honor Roll, Extra-curricular Sport/Club News, Scholarships, and more...
https://5il.co/1nsz9